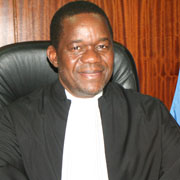 Mr. Bongani Majola (South Africa) was appointed by UN Secretary General Ban Ki-moon Registrar of the United Nations International Criminal Tribunal for Rwanda on 1 January 2013. He was appointed for a term of four years or until the closure of the ICTR, whichever is sooner.
Mr. Majola, former Deputy Prosecutor of the Tribunal (2003-2013), holds an L.L.B from the University of Zululand in South Africa, and an L.L.M from Harvard University.
Prior to serving for the ICTR, Mr. Majola was the Executive Director of the Legal Research Centre in Johannesburg, South Africa. He also had numerous years of experience as District Court Magistrate and as Dean of the Faculty of Law at the University of Limpopo, South Africa.